The Senior People Professionals Network in London
November 15
@
6:00 pm
–
8:30 pm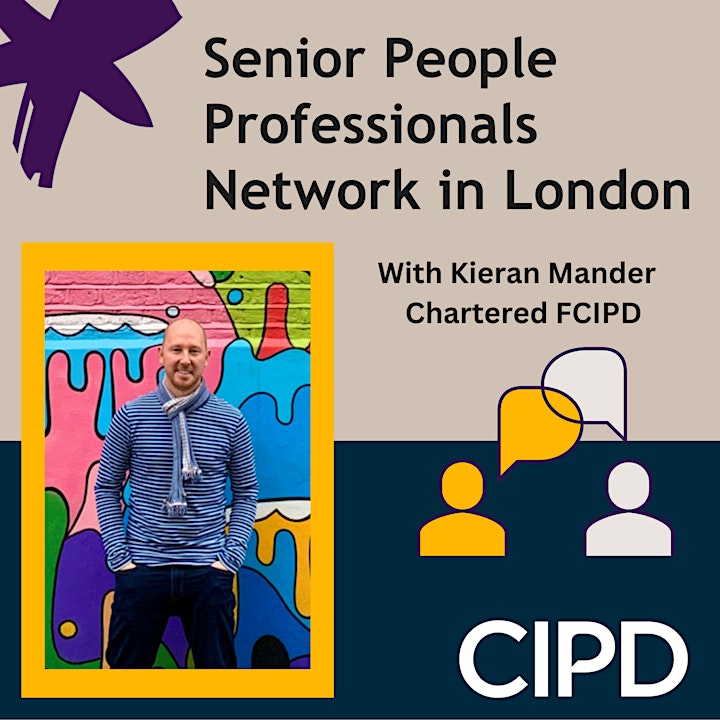 The path to a Senior People Leader
Ever wondered what it takes to get to the top of the People Profession?
Join us for a panel conversation with some leading industry experts on the path to becoming a Senior People Leader. What does it mean to be a member of the PLT (People Leadership Team) or a CPO (Chief People Officer) or CHRO (Chief Human Resources Officer) in different types and size of business?
Other than being in the right place at the right time, what are the other pointers that can help you practically build your career? Including exploring the sideways development into operational and other roles within the wider People Profession.
Timings for the event
18.30 – Start and introduction to panel
20.00 – Networking / Drinks
21.30 – Finish and close
The Speakers

Ellie Rich-Poole helps leaders land their perfect role and be brilliant in it by playing to their strengths. A former HR professional herself, she then spent 11 years as a headhunter of HR leaders before setting up her business in 2016 as the Recruitment Coach. She runs Career Development programmes and speaking sessions on a range of career topics and is a LinkedIn 'top voice' for Careers.
Ellie has lived and worked in UK, Germany, Chile and Singapore and enjoys supporting globally minded individuals and organisation and making new friends. Wherever she is in the world she is always on the quest for a perfect cup of builders' tea, hailing originally from Yorkshire.

Olivia Sharp – Partner, HR Executive Search, for Eton Bridge Partners.
Olivia specialises in executive search for EtonBridge Partners' HR Practice, with a primary focus on Chief People Officers and their teams. Her practitioner background in HR, gained in senior positions in a FTSE100 environment, combined with extensive general management experience, is a unique combination for clients and candidates alike. Eton Bridge Partners is a market leading executive search, interim management and consulting business operating all over the world, from our offices in London and Windsor.
A Chartered Member of the CIPD, Olivia has a particular interest in diversity in the workplace, particularly mental health, social mobility and neurodiversity, and uses her first hand experience of delivering business turnarounds and wide scale people change, including complex industrial relations environments to support clients of all shapes and sizes, globally. Closer to home, she was delighted to support Eton Bridge itself shift to a 9 day working fortnight 10 months ago.
Outside of work, Olivia is 'Mummy' to three young children and is proud to 'parent loudly' at work, and tries to squeeze in a bit of running, cycling and ballroom dancing in between everything else!

Leah De Silva, Senior Programme Manager, CIPD Trust
Since November 2017, focused on creating a more representative People Profession. Led the Aspiring HRD Programme which partners existing People leaders with those looking to develop into future leaders, particularly from under-represented groups. Passionate about user-led design and talking to CIPD members and volunteers to understand their motivation and barriers, to support the CIPD Trust's aim to tackle barriers today to create more inclusive workplaces of tomorrow.
Prior to joining the CIPD, Deputy Chief Executive of LandAid, the property industry charity, which seeks to end youth homelessness and held senior roles in other charities, not for profit organisations, following a ten-year stint in the private sector recruiting lawyers.
Outside of work a trustee of local charity, Wimbledon BookFest, which promotes reading in young people and engagement in literature for the wider community, promoting better representation in the Arts and Culture space.

The host – Kieran Mander
Our new lead, Kieran Mander, is a Fellow of the CIPD and has been an active member since 2017 where he became a volunteer with the Code of Conduct and Ethics committee and then Co-Chair of the CIPD Branch in South-West London.
Kieran has over twenty years of international HR experience working in multiple sectors, including FMCG, Retail, Aviation, Tech, Utilities and from start-up to FTSE 100 multinationals. Including spending 10 years living and working in the Middle East.
He is a professional Coach and has experience both within permanent and interim environments. Kieran loves turning complex business objectives into engaging strategies, helping businesses lead change programs, drive employee engagement, delivering fit-for-purpose org design, reward and performance policies or supporting HR systems and landing strategic commercial People Plans.
He is currently co-writing, "The HRBP handbook" and is passionate about sharing best practice people initiatives and hearing from other HR practitioners on new ideas to support the HR journey, to champion better work and working lives!
If you would like to find out more about Kieran please click here.
Please note:
1. Reminder emails will be sent to you 2 days before, with a further reminder on the day of the event.
2. The event will start at 18:00 and run for about 180 minutes.
3. Photography and video production may be taking place at the event, and these images and videos may be used on future promotional materials for CIPD and used in the CIPD mailings.
4. By attending the event, you are giving your consent for your image to be used on any CIPD promotional materials.
5. If you require us to make reasonable adjustments for you to access and attend this event, please email london@cipdbranch.co.uk