Masterclass on the Cognitive Sciences of Focus + Memory Improvement
November 18
@
1:00 pm
–
7:30 pm
Agenda
Check-In and Registration
---
Please arrive at 12:15. Come with your ticket ready to be registered, grab your masterclass booklet, pick the best seat and get ready to learn about your brain's infinite potential.
1:00 PM
The science of memory, encoding, reading and processing
Francesca Dal Corso
---
Understand the science behind how we remember information. Learn the four stages of memory, how encoding works and how to create more lasting memories. You will witness how powerful your brain can be…
View More
3:45 PM – 4:00 PM
Consolidation exercise and break
---
Practical exercise to consolidate the knowledge you just gained and a quick break before learning deeper insights into brain science.
4:00 PM – 6:30 PM
The science of Focus, thoughts, overwhelm, distractions and flow state
Yousuf Aslam
---
A deep and insightful session around what drives our focus and the impact it has on a daily basis. Learn how developing skills to improve focus will help you gain better mental health.
6:30 PM
Lovebrain Programme and Q&A
Yousuf Aslam
---
Learn how to achieve ultimate brain performance by attending the Lovebrain Cognitive Training programme. At the end of the Masterclass, if suitable, you may be able to benefit from a case study grant Lovebrain is currently offering. You will also be able to ask any questions you may have.
The Lovebrain Focus + Memory Masterclass is a transformative journey that redefines your perception of your brain's limitless potential.
The founders at Lovebrain, have dedicated over 30 years to pioneering research in cognitive sciences, transforming the lives of thousands of individuals. Now, we invite you to experience our exclusive Lovebrain Memory Masterclass, a profound journey into the limitless capabilities of your brain.
What you'll learn
In this transformative Masterclass, you'll gain deep insights into the inner workings of your brain and discover practical tools to harness its full potential. We provide science-based knowledge on how your brain is designed to function, including;
The 4 stages of memory and how memories are formed
Why you forget, and the impact of untrained memory
Cognitive biases, where they come from and how they affect how you see the world
Have the opportunity to test your abilities
Learn how you may not be reading or processing as effectively as you could be
The cognitive sciences of focus, distraction, anxiety and overwhelm
The neuromechanics of brain waves and their impact on focus, memory, sleep and energy
The impact of thoughts and emotions on your overall results
You'll also witness mind-blowing applications of the Lovebrain training methods that will ignite your passion for learning and developing yourself further. You'll leave the Lovebrain Masterclass with a newfound optimism for your potential.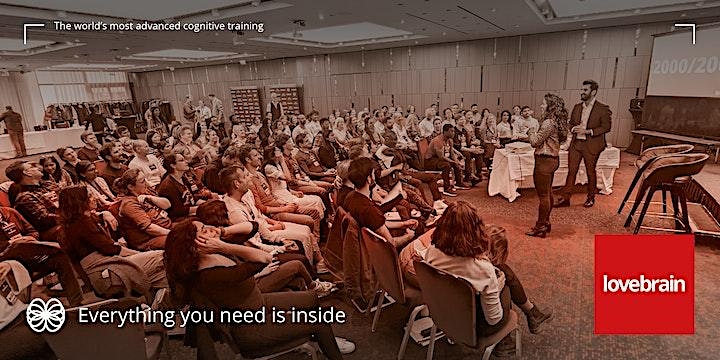 Who should attend
Our Masterclass is open to everyone with a growth and learning mindset, regardless of background or challenges. Over the past five years, Lovebrain training has empowered individuals from various walks of life, including those who have faced brain traumas, surgeries, strokes, or learning difficulties like dyslexia, dyspraxia, ADHD, and dyscalculia – as well as ultra-high performers looking to boost their abilities. Whether you seek to optimise your brain's potential or simply believe there's more to explore within yourself, this Masterclass is tailored for you.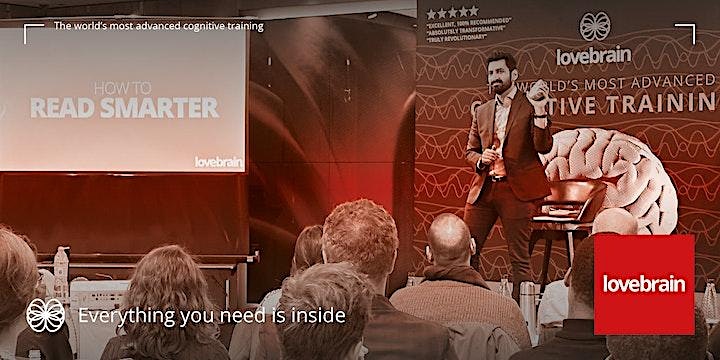 The 3 main goals
Understand Your Starting Point: Through simple tests, you'll map your current learning abilities, gaining a better understanding of how you use your brain and what professional training can help you achieve in the future.
Re-set Your Brain to a Higher Standard: Our Masterclass isn't just theoretical; it's grounded in science and showcases the tangible benefits of Lovebrain techniques in real time.
Start Your Lovebrain Journey: At the end of the Masterclass, explore the exclusive Lovebrain Training Programme. Learn the science and process of how it works, its potential impact on your life, and the opportunity to apply with a case study grant (if you are suitable).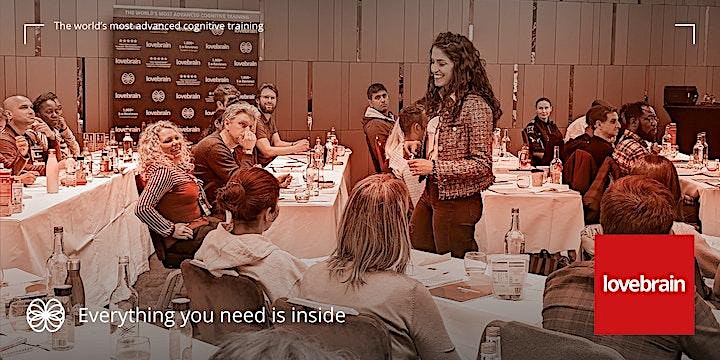 Attendance rules
1. You must be 18 and over to attend this Masterclass.
2. Please arrive for registration at 12:15 for a prompt 13:00 start.
Location: Logan Hall, Institute of Education (IOE), UCL, 20 Bedford Way, WC1H 0AL. There is no parking available onsite.
3. Late arrivals, unfortunately, cannot be permitted entry.
4. Please note this is a 6.5 hour session. It is advisable to bring some food and water with you to keep you energised.
5. This venue has a strict no-pet policy.
For more information, please visit lovebrain.com, or contact us via email at team@lovebrain.com
We look forward to meeting you at the Masterclass and demonstrating how powerful your brain can be.
Lovebrain Team
team@lovebrain.com
lovebrain.com
Copyright © 2018 – 2023 Lovebrain Ltd, All rights reserved. Lovebrain is a registered trademark. No part of this text may be copied or redistributed without the explicit written permission of the owners.